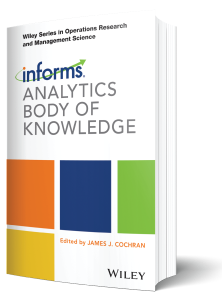 INFORMS Analytics Body of Knowledge
Get this essential resource on your analytics bookshelf.
INFORMS defines analytics as "the scientific process of transforming data into insight for making better decisions" which can be applied as the foundation of this book. The INFORMS Analytics Body of Knowledge is a representation of perspectives of some of the most respected experts on analytics. It is designed to provide an understanding to those interested in the process, design and execution of analytics as it is an important tool that aids in overcoming complex problems, devise enhanced strategies and decisions.
Edited by James J. Cochran, University of Alabama, authors include top analytics thought leaders to provide you with a resource for individuals both experienced and inexperienced who are looking for ways to fully and effectively integrate analytics into their organization's problem solving, decision making, and strategic planning.
Chapters Cover:
Introduction to Analytics: Philip T. Keenan, Jonathan H. Owen, CAP, and Kathryn Schumacher of General Motors
Data- and Decision-Centric Analytics; Descriptive, Predictive, and Prescriptive Analytics overviews


Getting Started with Analytics: Karl G. Kempf of Intel
Five Manageable Tasks and Real Examples


The Analytics Team: Thomas H. Davenport of Babson College
Managing Analytical Talent, Organizational Analytics Structures, and Building Analytical Ecosystem


The Data: Brian T. Downs of Accenture Digital
Data collection, types, preparation, and modeling


Solution Methodology: Mary E. Helander, IBM T.J. Watson Research Center
Methodologies for Exploration and Discovery, Finding solutions when Models are Independent or Dependent on Data


Modeling: Gerald G. Brown, Naval Postgraduate School
When Models are Appropriate, Types of Models, Probability, Game Theory, Model Documentation, Formulation, and Fidelity


Machine Learning: Samuel H. Huddleston and Gerald G. Brown, Naval Postgraduate School
Algorithmic Modeling Overview, Data Acquisition & Cleaning, Model Fitting, Performance Evaluation


Deployment and Life Cycle Management: Arnie Greenland, CAP, University of Maryland
Analytics Methodology and Job Task Analysis seven domains


The Blossoming Analytics Talent Pool: An Overview of the Analytics Ecosystem: Ramesh Sharda, Oklahoma State University and Pankush Kalgotra, Clark University
Analytics Industry Ecosytem, Service Providers, Software Developers