Trying to find qualified analytics and data science candidates?
INFORMS Can Help You Find Top Talent
With more than 12,500 members worldwide, INFORMS is the leading international association for professionals in operations research and analytics.
INFORMS promotes best practices and advances in operations research, management science, and analytics to improve operational processes, decision-making, and outcomes through highly-cited publications, conferences, competitions, networking communities, and professional development services.
If you're hiring analytics talent, we can help! Whether you're looking for operations researchers or data scientists, we know you want to make sure you're finding the best of the best. INFORMS has several resources to make this easier for you.
How can we help you find top talent?
Through Our Certified Analytics Professional (CAP®) Certification

CAP® is the top global professional certification for analytics practitioners. Those who meet CAP's high standards have:
Education

Experience

Effectiveness, verified soft skills

Technical Skills

Agreed to a code of Ethics

Passed the Analytics Certification Exam
For organizations looking to find analytics talent, CAP provides a trusted way to identify, recruit and retain the top candidates in this field. For recent graduates or entry level practitioners who lack the practice experience that is essential to earn the CAP, INFORMS offers the Associate Certified Analytics Professional (aCAP) credential.
Through Our Career Center
The INFORMS Career Center (ICC) allows employers to:
Post jobs online quickly and easily
Review applications online or via email
Search our resume database
Create resume search alerts
Use our application to send users to your website
Manage corporate logo/employer branding
View or print reports and statistics
Indicate that a job is CAP-preferred
We'll also email your job to relevant job seekers. ICC conveniently and efficiently matches qualified applicants with employers in the O.R. and analytics fields. While employers pay a fee to post ads, INFORMS member-employers receive a substantial discount when advertising their job openings.
Through Our Career Fair

Employers and job seekers may also meet face to face each fall at our INFORMS Annual Meeting Career Fair and in the spring at our Analytics Conference Career Fair.
Analytics Conference Career Fair
The 2021 Analytics Conference Career Fair will take place April 11-13, 2021 in Orlando. This is a professional career event that allows both top analytics employers and seasoned, experienced analytics professionals to connect in a casual, relaxed atmosphere.
The Analytics Conference Career Fair offers employers considerable benefits at a low, association-style price. In a convenient atmosphere companies and their recruiters can:
Provide recruitment material in a relaxed setting that attracts those hard to find but invaluable casual job seekers
Set up one-on-one interviews with the best of the best
Build your resume bank by participating in the "Resume Drop" program
Enjoy access to more than 1,000 seasoned analytics professionals on-site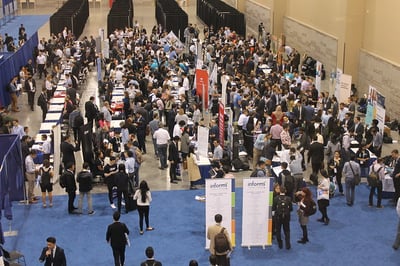 Annual Meeting Career Fair
The highly publicized 2020 INFORMS Annual Meeting Career Fair will take place Sunday, November 8, 2020 from 12–5pm in Washington D.C. The Career Fair in Washington and all related networking activities provide employers with the opportunity to meet and collect resumes from thousands of job seekers on the first day of the meeting. Employers can also choose to schedule and arrange private on-site interviews on the days following Sunday's Career Fair.
Participating in the Annual Meeting Career Fair raises your organization's visibility with attendees, who include interested job seekers ranging from highly seasoned professionals in the academic or industrial space to freshly minted PhD's and masters students just entering the workforce.
Looking for more information? Fill out the form on this page and we'll be in touch!